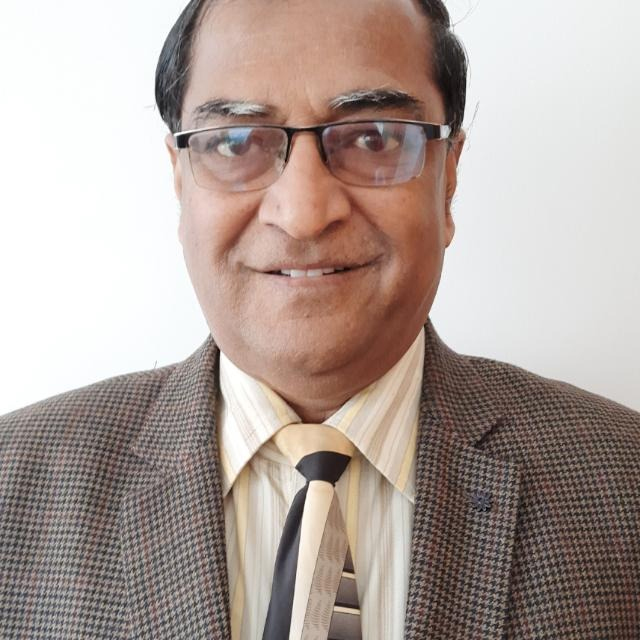 Bihar Vidyapeeth, Sadaquat Ashram, Patna, Bihar
Atal Incubation Centre Bihar Vidyapith Foundation
M.Phil. (Physics)     Delhi University(1980)

M.Sc. (Physics)       Delhi University(1979)

B.Sc. (Physics)        St. Xavier's College, Ranchi(1976)

Intermediate           St. Xavier's College, Ranchi(1974)

Secondary              Netarhat Residential School, Netarhat, Jharkhand(1972)
Joined Indian Administrative Service in 1981.
Vijoy Prakash was in Indian Administrative Service. He has wide of working at the top level in state in the field of Human Resources, Agriculture, Planning and Development, Social Welfare, Rural Development, Co-operation, SC & ST Welfare, Extremely Backward & Backward Welfare, Transport, industries and Vigilance. Widely acclaimed for his researches in the field of creativity and innovation, he is also credited to have developed an innovative system of education known as 'Creative Learning'. He has applied this theory for holistic development of human beings. Especially this has been used to empower underprivileged by developing their creativity. He has also developed a large number of books and teaching learning materials for the development of concentration, memory, thinking, imagination, visualisation, power of observation and emotional management.
email: vijoyprakash@gmail.com
website: http://vijoyprakash.in www.creativelearning.in
" I'm very picky with whom I give my energy to. I prefer to reserve my time, intensity and spirit exclusively to those who reflect sincerity. "
Agriculture Production Commissioner, Bihar

Principal Secretary, Department of Planning and Development, Govt. of Biha

Principal Secretary, Department of Vigilance, Govt. of Bihar

Principal Secretary, Department of Transport, Govt. of Bihar

Principal Secretary, Department of Rural Development, Govt. of Bihar

Principal Secretary, Department of Cooperation, Govt. of Bihar

Principal Secretary, SC and ST Welfare, Govt. of Bihar

Principal Secretary, EBC and BC Welfare, , Govt. of Bihar

Principal Secretary/Secretary, Social Welfare, Govt. of Bihar

Secretary, Welfare, Govt. of Bihar

Secretary, Human Resources Development, Govt. of Bihar

Chairman cum Managing Director, Bihar State Industrial Development Corporation

Secretary-cum Inspector General, Department of Registration, Bihar

Secretary, Department of Minority Welfare, Bihar

Administrator, Bihar State Cooperative Land Development Bank

Secretary, Higher Education, Govt. of Bihar

Managing Director, Bihar State Export Corporation

Managing Director, Bihar State Credit & Investment Corporation

Commissioner Kosi and Purnea Divisions

Director, Mass Education, Bihar

District Collector/Dy. Commissioner of Jehanaba, Sahibganj and Aurangabad

Dy. Development Commissioner of Aurangabad and Jehanabad

Sub Divisional Officer, Araria
Managing Trustee, Netarhat Alumni Educational Trust
Executive President, Association for Promotion of Creative Learning
Chairman, Bihar Vidyapeeth
Chaiman, Deepayatan Committees
Chairman, Pay Revision Committee for University Teachers and Non Teaching Employees
Chairman, NPA consideration Committee for Medial and Veterinary doctors 2013
Was awarded President's silver medal for outstanding performance in Census operations in 1991
Was honoured by Indian Society of Creative Arts and Budha Mission of India
As SDO, Araria and District magistrate, Jehanabad and Aurangabad launched a special campaign for land reforms. Took special initiative for acquisition of land surplus under ceiling laws from big landlords without favour. Also passed order of acquisition of ceiling surplus lands pertaining to families of influential people of society including those occupying high posts in government.
At Araria in 1883-85 took initiative to distribute land rationally to poor and underprivileged to solve the decade old problem of Land Grab movement. By properly rehabilitating the so-called land-grabbers who were basically landless people in search of a house site and decent living. By settling govt. land with them the major dispute was resolved as they left right over the so called grabbed land and confined to the settled land.
Believes that the extremist movement is basically a product of socio-economic- cultural imbalance in the society as modernization has led to new orders, which is yet to stabilize leading to frustrations in the lower strata of society.
Extremist problems can be solved by solving the local issues by taking into consideration of the perspectives of the poor people and providing good governance
As a Collector in Naxal infected district of Aurangabad launched special programme in 1991 for land reforms under the name of 'Operation Todermal' to contain naxal movement. It contained solving the contentious issues related to land which included settlement of Gairmazarua land, ceiling surplus land and Bhudan land to poor and underprivileged, giving possession in the cases of wrongful dispossession, mutating cases of transfer of land to update land records, etc. One of the major contentious issues encountered was of dispute related to Mahua flowers. Mahua was non saleable under forest act. However, landlords in Tandawa region used to sell it by getting it picked from the forest region. Later when Scheduled caste people who used eat the fruit protested, a bloody dispute followed for several years leading to the death of several persons including several Mukhias of the region. The problem was finally resolved by giving right to pick Mahua flowers to those families who used to eat it as staple food. A family was given right to collect the flowers of maximum five trees at a token payment of Rs 5 per tree. Initially it was resisted by higher caste people, but later administration backed the Mahua right holders, the issue was resolved for ever leading to peace in the area.
Believes in organization of poor to be the best means for amelioration of their conditions by giving them better bargaining power and giving them benefits of economies of scale
Launched special programmes to organise weaker sections for economic activities. Organised more than 50 cooperative societies for economic rehabilitation of rural poor in Jahanabad, Aurangabad and Sahibganj.
Organised DAMUL (Daudnagar Milk Union Ltd) – a milk cooperative at Daudnagar (Aurangabad)
Was first in the country to organise the all women union of Dairy co-operatives JAMUL (Jahanabad Milk Union Ltd) in Jahanabad district
Was one of the first in the country to organise DMSS (District Marketing and Supply Society) in Jahanabad, Aurangabad and Sahibganj to provide backward and forward linkages to the economic activities performed by poor peopl
Recognising the Unrecognised
Believes in development of underprivileged by recognizing, nursing and developing the inherent creativity and creative skills in them
Organised 'Shanti Mahotsav' in the extremist affected district of Aurangabad to recognise the inherent talents in different segments of society particularly the underprivileged
Developed pictorial storybooks depicting life of Shabari, the mythological character being worshiped by underprivileged sections of society, for giving recognition to their mythological symbols.
Composed poems in honour of the most marginalised community 'Musahar'
Developed mathematical stories depicting pigs, the animal being reared by Musahars and Doms, as heroes
Developed slogans for recognizing the contribution of underprivileged in the community
Rehabilitation of Beggars
Believes that each individual is creative and love to lead a creative life. The poverty in society is basically an outcome of the imbalance between existing creative potential of the people and the opportunity for their conversion into economic activity.

Also believes that Beggars are highly creative people and their lot can be changed by converting this creativity into useful productive vocations

Persuded Govt. to form a separate registered society named State Society for Rehabilitation of Ultrapoor for rehabilitation of beggars and street children and launched a special programme named Pahchan for this purpose.
Rehabilitation of Kinnars
Believes in working separately using the points of strength of each marginalized community. As principal secretary Social Welfare initiated rehabilitation of Kinnars who are one of the most marinalised group of the society. A separate action plan was made for the purpose.
Did maintain almost incident-free communal harmony in Sahibganj district in the wake of famous Bhagalpur Riots 1989-90
Has deep interest in tribal welfare.

Did a lot of innovative works for welfare of Paharia Community (an aboriginal tribe whose population has stagnated) of Sahibganj district. One of the main reasons for the stagnation of the growth of the population was the serious identity crisis in the community. The life of Paharia community was dependent on forests and wild life. It was integrated with the rhythm and rhyme of nature. They enjoyed wandering in forests enjoying fruits and flowers and singing songs and playing flute. Hunting was the main passion. As the forests dwindled and wild life reduced, they have started finding no useful purpose of living. Made a comprehensive effort for the development of Paharia community. As the tribe had great interest in singing and dancing, they were given opportunity of dancing and singing on all occasions. Their team was sent to Delhi to participate in the function organized on Bihar day.

For the first time organised Paharia Adivasi Mahotsava at Sahibganj in 1991 for the development of Paharias. In this 72 special stages were prepared for their dancing in the stadium. As each group kept dancing for the entire day, it was a historic day for them.

Was first to make a tele-film in Malto language-PUNE ASARA in which all actors were Paharias to organise Gram Sabha to free them from the clutches of moneylenders. The film was shown in local video halls. It attracted lot of crowds, who were greatly amused to see their own kith and kin in the movie. Several hundred Gram Sabhas were organized in the process.

Earlier housing was planned for Paharias at the downhill but it was found that they never lived in these pucca houses at the downhill and even the bricks were stolen. It was learnt that as the life of Paharias were integrated with the hills, removing them from their natural habitat would serve no purpose. So, it was decided to give them assistance to make mud houses at the top of the hill itself. The experiment was great success as they constructed beautiful mud houses and lived in them also.

In order to integrate them with the mainstream they were also given preference in employment of 4th grade.
Literacy, Creativity and Education
To work for children particularly poor and underprivileged children is his passion.
Organised literacy movements in the state of Bihar which led to substantial increase in literacy of the state
Planned and organised special Non-formal educational schemes for non school-going children and school dropouts
Sincerely believes that promoting creativity in society can solve the problems of modern day world.
To propagate creative learning in society, developed a different system of education called CREATIVE LEARNING.
Has established a not-for-profit society Association for Promotion of Creative Learning in 1997 as founder Executive President to promote Creativity and Creative Learning in society
Was instrumental in establishing an innovative CBSE school in the name of School of Creative Learning at Patna in 1997
Has developed a large number of teaching learning materials, games, and books for promotion of creativity.
Based on Yogic methods of learning, has developed a series of exercises known as Adrishti (Mental Visualisation), which is used to develop Imagination, Concentration, and Emotional Management. It has been found to be extremely useful for low achievers on account of emotional disturbance.
Offers free consultancy to children creative development (multiple intelligence) and thus helped large number of children in overcoming fear of failure
Has developed a model for braoadstreaming of education for underprivileged and established Shabari Ashrams for ensuring right of education to underprivileged people particularly Musahars
Has delivered lectures on topics related to creativity and creative learning at various national level institutes and made presentation in various national conferences including IIM, Ahmedabad, NCERT, New Delhi, National Institute of Design, Ahmedabad, Patna University, Ranchi University, etc.
Conducted Training programmes of DPS, DAV, Nirankari group of Schools at Delhi and St. Xavier's, St. Michael's and St Joseph's Convent Schools at Patna
Has launched Prakriti Jodo Movement to promote nature consciousness by organising PRAKRITI MELA,
Has developed various books like Exploring Nature series and Cassettes like Aadrishti
After doing a survey of inculcation of democratic values among children in different schools has developed a model of Social Science Laboratory in schools
Has established School Science Laboratories in schools of Bihar and Jharkhand
Has participated in International Trade fair at Frankfurt (Germany)
Before joining IAS, was actively engaged in the research related to black hole and also got published a paper in Astrophysical Journal
1.Creative Learning Pub: VIVA Publication Pvt Ltd., New Delhi
(A special presentation ceremony was organised at Rashtrapati Bhavan New Delhi where the book was presented to HE the President of India Sri APJ Abdul Kalam on 17.11.2006)
2. Abhivanchiton ka Sikshadhikar: Ek Srijanvadi Prayog (with Prof S. K. Srivastava) Pub: Rajkamal Prakashan, New Delhi
3. Art of Developing Concentration Pub: Association for Promotion of Creative Learning, Patna
4. Concentration Development Kit Pub: Association for Promotion of Creative Learning, Patna
Develop Concentration (Ekagrata Badhayen)
APCL Concentration Circle
APCL Concentration Stairs
APCL Concentration Triangle
APCL Concentration Cave
APCL Concentration Sri Yantra
APCL Concentration Corridor
APCL Concentration Wave 5-9. Developing Mind: Step I to V, (Graded book for development of concentration, Reasoning, Imagination, Questioning for primary schools), Pub: Creative Learning, Patna
Books for learning about nature in Botanical Gardens
10-11. Exploring Nature (Plant Learning CardsPart I &II) (Ed) Pub: School of Creative Learning
12. Exploring Nature (Animal Learning Cards ) (Ed) Pub: School of Creative Learning
13. Exploring Nature (Birds Learning Cards) (Ed) Pub: School of Creative Learning
14. Exploring Nature (Fish Learning Cards) (Ed) Pub: School of Creative Learning
( The books were released by HE Governor of Bihar Sri Vinod Chandra Pande)
Books on Non-formal Primary Education
15-18. Parhen Barhen part I-IV (Direction)  Pub. Non formal Resource Centre, Patna
19. Sune Seekhen part I (Direction)   Pub. Non formal Resource Centre, Patna
20. Vatavaran Nirman Kaise Karen(Direction) Pub. Non formal Resource Centre, Patna
21. Khelen Seekhen(Direction)   Pub. Non formal Resource Centre, Patna
22. Sahaj Pahara Pub: Creative Learning
23. Multiplication Wheel (Gunan Chakra) Pub: Creative Learning
24. Universal Calendar Pub: School of Creative Learning
25. Three little Pigs Pub: School of Creative Learning
Social Sciences Laboratory Books
26. Prayogshala Gatividhiyon Ka Ek Samuchchaya (with Prof S. K. Srivastava)
Pub: Creative Learning
27-30. Prayogic Samaj Vijnana Vol. VI-IX (with Prof S. K. Srivastava) Pub: Creative Learning
31. Nanhi Shabari (with Prof S. K. Srivastava) Pub: Creative Learning
32. Kishori Shabari (with Prof S. K. Srivastava) Pub: Creative Learning
33. Tapaswini Shabari (with Prof S. K. Srivastava) Pub: Creative Learning
34. Education for Democracy (with Prof S. K. Srivastava) Pub: Creative Learning
(The book was released by HE Governor of Bihar Sri R. L. Bhatia on 7.3.2009.)
35. Adrishti (Script)      Pub: School of Creative Learning
36. Pune Asara, first video-film by Paharias in Malto language in 1991 (Concept and Direction)
Research Papers and Articles
37. Constructivist Practices at Primary Level: Experiences of Creative Learning (This paper was presented in NCERT, New Delhi on 5.5.2006.)
38. 'Concentration Development: A Primary Condition for Education for Life' in National Report on National Consultative Meet on 'Education for Life' under 'Sarva Siksha Abhiyan', Department Of Elementary Education, NCERT, New Delhi, 2002
39. 'Children First', Times of India, 14.11.1998
40. 'Can you teach me the way I want', Hindustan Times, 17.2.2001
41. 'Dalit Bachho ko Einstein Nahin, Edison Banayen', was published in more than a hundred magazines
42. Mathematics Education and Theory of Multiple Intelligence: Presented in Chhotanagpur Mathematical Society, Jharkhand
43. He Mushar Tumhe Pranam (Song), Hindustan
44. Accretion Spectrum onto Kerr Black Hole, 1984, Astrophysical Journal, USA
45. Paper on 'Broadstreaming through Creative Learning: An approach towards educational Inclusion' published in the book Approaches to Educational and Social Inclusion: International Perspectives, theory and Key Challenges published by Routledge, UK
45. Approach Paper to 12th Five Year Plan
Annual Plan 2011-12
Annual Plan 2012-13
Annual Plan 2013-14
12th Five Year Plan 2012-17
Guided development of following Books/ Reports of Directorate of Statistics and Economics
Bihar Sankhyiki Hast pustika 2010
Bihar Sankhyiki Hast pustika 2012
Anganbari Sevika sah Upragistrar Janma Mrityu Nibandhan ke liye Margnideshika
Analysis of State Govt. Budget for 11th Plan (2007-12) & 2012-13 (BE)
Chhathi Arthik Ganana ke Praganakon evam Paryavekshakon ke liye Margnideshika
Pancchayatstariya Fasal Katni Prayog evam Fasal Sarvekshan Hetu Anudsh Pustika
Bihar Sankhyiki Darpan, Mar 2012
Bihar Sankhyiki Darpan, June 2012
Bihar Sankhyiki Darpan, Sept. 2012
Bihar Sankhyiki Darpan, Dec
012 to Mar 2013
Bihar Ek Jhalak- 2010@Bihar At A Glance-2010
Bihar Ek Jhalak-2011@Bihar At A Glance-2011
Bihar Ek Jhalak-2012@Bihar At A Glance-2012
Bihar Ek Jhalak-2013@Bihar At A Glance-2013
Bihar Sankhyiki Diary- 2011
Bihar Sankhyiki Diary- 2012
Bihar Sankhyiki Diary- 2013
Bihar Sankhyiki Diary- 2014
Janma registrikaran Abhiyan Prashikshan Margnideshika
Janma Nibandhan Abhiyan Sanchlan Margnideshika
Trends in Growth & Pattern of SDP Bihar 1948-49 to 2011-12 (A centenary celebration document)
Report on Non Profit Institution
Bihar Through Figure-2011
Analysis of Budgetary Transaction 2007-08 to 2011-12
Prison Statistics, Bihar
SDP 2004-05 to 2010-11(Adv.) DDP 2004-05 to 2007-08 Bihar
Annual Report of Births and Deaths- 2010
New Series of State Domestic Product Bihar: 2009-10
Bihar State Strategic Statistical Plan (BSSSP)
Development Research of Bihar, 2000-2010 through Institute of Human Development
Supervised Evaluation Studies done by Directorate of Evaluation on
SC Residential School Scheme through CERPA(Centre for Research Planning and action), New Delhi
SC Hostel Scheme through CERPA(Centre for Research Planning and action), New Delhi Hand Pump Scheme under ARWSP through Datamation Consultants Pvt. Ltd., New Delhi
IAY through DRS, New Delhi
Supplementary Nutrition Programme
Rural Pipe water supply Scheme
Pre Matric Scholarship Scheme
Mukhyamantri Balika Cycle yojna
Finding something interesting ?
GET BETTER RESULTS BY UPGRADING TODAY!​